Awakening People's Conscience with Culture, Tai Ji Men's Masterpiece "Back to the Origin" Praised as a Play that Awakens the World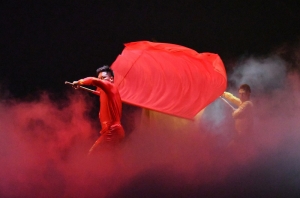 Where did we come from? Where will we return? What is the invisible chain of life that connects a person's past and present? Tai Ji Men, an ancient menpai (similar to school) of qigong, martial arts, and self-cultivation, presented a profoundly inspirational play 'Back to the Origin" in Taiwan on May 28, 2017, and nearly ten thousand people across the globe watched the performance either in person or via live stream from one of 8 locations, including Los Angeles and San Jose, California. They praised Tai Ji Men for awakening people's conscience with culture. The play resonated deeply with the viewers and inspired them to sincerely reflect on their own lives. Following its internationally acclaimed performance at the Sydney Opera House in Australia, Tai Ji Men delivered another masterpiece to awaken the world.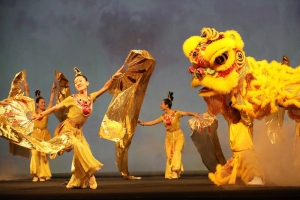 The play is designed to inspire people to reflect on their own lives and awaken their conscience. Directed by Dr. Hong, Tao-Tze, president of the Federation of World Peace and Love and grandmaster of Tai Ji Men, the play deals with the origin of human beings and their common spiritual home, allowing the viewers to better know their true selves and their own roles in the universe. Life is like a play; a play mirrors life. Scenes depicting the manifestations of human flaws in response to temptations, conflicts between good and evil, and choices between right and wrong led the audience members on a journey crossing the boundaries of time and space, awakening the ancient memories hidden in the depths of their hearts. 
The play, presented by over 400 Tai Ji Men members, ages between 9 and 66, portrays events ranging from tens of thousands of years ago to present day and contains various forms of arts, including traditional martial arts infused with modern creativity, contemporary songs and dances, ancient singing, folksongs, and a traditional opera. From the play, viewers gained an insight into the dawn of time, the origin of life, and the cycle of reincarnation, and they easily related to the main characters. One of the themes--when a person's heart is polluted by greed, anger, stupidity, arrogance, and doubt, that person is blinded by those forces of negativity--also resonated with the viewers. The entire performance, woven together through the development of the leading characters, has a quickly unfolding plot and contains profound meanings. Through the stories of the main characters and the conflicts between good and evil, the viewers embarked on a voyage through time and obtained a deeper understanding of the meaning of life.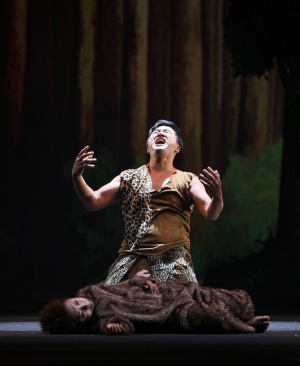 In 2014, Dr. Hong initiated the movement of An Era of Conscience, which has been co-organized by the Federation of World Peace and Love, Tai Ji Men Qigong Academy, and the Association of World Citizens, NGO in consultative status with ECOSOC and associated with the UN DPI. To date, people in 197 countries have participated in it, forming a positive butterfly effect throughout the world. In 2017, Dr. Hong produced the well-received "Back to the Origin," which was praised as a play that awakens the world. In this tumultuous time, it is hoped that all people can protect their conscience, maintain balance and stability in their hearts, and inject positive energy into the world. The play aims to inspire people to find the key to helping themselves in the face of challenges. At the end of the performance, the Bell of World Peace and Love was rung, and its peaceful sound guided people to walk toward a bright future and encouraged them to continue to improve themselves and work together for themselves and the whole world!
In recent years, there have been frequent terrorist incidents in Indonesia. Mr. Nugroho Priyo Pratomo, director of the Indonesian Economic and Trade Office to Taipei, felt that the play is very profound and stated, "We look back to the origin. We look back to the God. So along our lives, we have to do the best things. We have to do the good thing to our people and all around the world. That is one thing that we can get that is never too late to become a good people. It's never too late to have a chance to get a better life."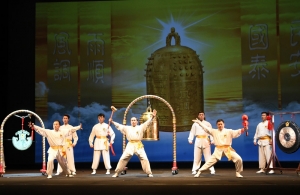 Kotatsu Nishino, director of cultural affairs of Japan-Taiwan Exchange Association, Taipei Office, said that the plot is intriguing and the play combines a variety of dances and fantastic qigong and martial arts presentations. As a martial artist, he said he had never seen anything like it, which conveys the essence of martial arts. The main character is stuck in the cycle of reincarnation because of his past mistakes. This has impressed Nishino and made him think about which direction to take for his future. He said he will continue to follow his conscience and stay positive.
Mrs. Jasmine L. Kidd, the First Secretary of Embassy of Belize in Taipei, Taiwan, said that she saw the impact of cause and effect in the play. When one focuses on making money, one starts to do something that one shouldn't, and later on, one has to reap what one sows, said Kidd.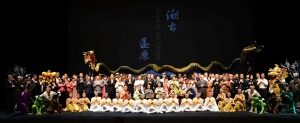 Mr. Vaclav Jilek, Representative of Czech Economic and Cultural Office, said, "In that way, I am now full of thoughts. No matter which you believe because peace and love should be coming for all people no matter where they live in which continent, for making the world better."
Ms. Sibongile Mabasa, Deputy Representative of Liaison Office of South Africa, pointed out that people should continue to spread love and peace and that everyone should know that we need to live in a peaceful and united world, not a divided one.
Mr. Mohammad Firdaus Oging, manager of the Malaysian Friendship and Trade Center, stated that we all need to do our parts to make this world become more hopeful. He said he wished to share with other Malaysians that spreading a kind thought, even a small one, to others can bring great changes to the world. 
Yu-Jing Sun, who has won many international awards for her advertising videos, praised the play for elevating people's souls and said, "The form is only its exterior; it is invaluable that the play enables people to gain a better understanding of their hearts."