2016 World Summit of Love and Peace
Culture of Conscience the Solution to Sustainable Development Goals

The 66th UN NGO Annual Conference was held from May 30 to June 1 in Gyeongju, South Korea with focus on Education for Global Citizenship: Achieving the Sustainable Development Goals Together. Volunteers of Cultural Goodwill Group of World Love and Peace organized the 2016 World Summit of Love and Peace on May 30 sharing with participants from 40 nations the achievements of An Era of Conscience and beautiful cultural performances in Hilton Hotel. Participating guests were deeply touched and inspired and came up stage dancing and singing with performers. Many of them were feeling energized. 
   The World Summit of Love and Peace is organized jointly by Association of World Citizens (AWC), Federation of World Peace and Love (FOWPAL), and Tai Ji Men Qigong Academy (Tai Ji Men). Dr. Rene Wadlow, president of Association of World Citizens, Dr. Hong, Dao-Tze, vice president of AWC and president of FOWPAL, and Nina Goncharova, coordinator of the Earth is Our Common Home project, aimed at promoting a new culture. shared with elite leaders and NGO representatives the accomplishments of the movement of An Era of Conscience which has swept across the globe in the past two years. It is proposed that conscience and culture is the fundamental core of global citizenship education.
An Era of Conscience was started in 2014. As of today, more than 230,000 people from 196 nations have endorsed the Declaration of An Era of Conscience. More than 3,000 organizations have jointly promoted the worthy movement around the world.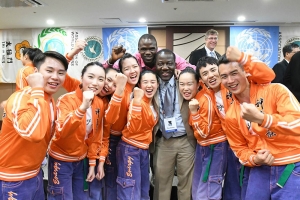 The World Summit has NGO delegates from Korea, US, France, Thailand, Canada, Bangladesh, Czech Republic, Portugal, Mexico, Nigeria and other countries. At the beginning of the program was the traditional ancient martial art demonstration with modern vitalities by Tai Ji Men teenagers, which delivered the message of stopping violence and spreading goodness. Next was the noble sword dance by females with the energy of peace and kindness.  
In the opening remark, Dr. Hong says that "Life has always been full of obstacles and challenges, and it will continue to be that way." The key to excel those obstacles and challenges lies in the fundamental core of life, which is the conscience in our heart. To purify the environment starts with purifying our souls. A world of peace begins with the inner peace in our heart." Dr. Hong emphasizes that a good culture leads to quality education. The education for global citizenship is derived from the education of conscience which is from the culture of conscience.
   Participants are invited to take part in the focus ceremony Light up the World holding a Fan of Conscience in hand and spreading it to symbolize commitments to spreading the goodness and kindness. In the focus ceremony, the globe is lighted up with rays of hope with the Declaration of World Citizenship echoing sustainable development goals. 
    The Declaration of World Citizens was proclaimed by Dr. Hong earlier this year. It has nine articles with focus on the natural rights of world citizens and urging awareness of love, peace and sustainability. The Declaration has been translated into 14 languages and put on the web for global endorsements. Dr. Rene Wadlow presented the Award of Sustainable Development by World Citizen to Dr. Hong in recognition of his contributions to promoting sustainable development by leading Cultural Goodwill Group of Love and Peace visiting around the world.
Temilede Aladeokin, youth ambassador of UNESCO from Nigeria, was touched and energized by the performance saying "Feeling the volunteers are doing this out of sincerity". He also pointed out that if we all practice conscience, everything will be changed. When we do a good thing, we educate ourselves and we educate others as well.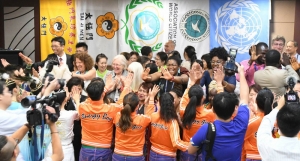 Sung,Jen Yeh, a Korean professor, said that "The most touching is the conscience promoted by Dr. Hong. This is rarely done. But Dr. Hong did it." Chu, Jen Hsiung, a Korean manager in a drug company, felt his conscience opened and would be committed to doing good things.
Liu,Chi Feng, a Tai Ji Men dizi, shared in the conference and performed in front of hundreds of people. However, he was shy and weak since early childhood. He had to go to doctors every week and could only stand on the sideline watching other kids playing in the park. But after he practicing Tai Ji Men qigong, he became strong and brave and everything becoming possible.
In addition to the martial art performances and sword dance, the program features peacock dance and lion performance. All the performers sang together the touching songs such as the theme song of An Era of Conscience in Korean, especially prepared for this event, and the Angel in Your Heart. A heart-to-heart communication among performers, NGO delegates and participating guests was naturally flowing in the conference. At the end, all was cheered up by the energetic Energy Boys & Energy Girls, and the hip-hop Happiness is Everywhere. Guests and performers were hand in hand singing and dancing with joy and excitement.
In response to the 17 Sustainable Development Goals adopted by the UN, volunteers promoted the endorsement of Declaration of An Era of Conscience and Declaration of World Citizens on the internet  http://www.fowpal.org/Endorse/1108_3endorses/index.php?lang=eng It is expected that world citizens will be brave and full of energy to create new opportunities at this critical time.