2017 World Leader Summit of Love and Peace in Midtown Manhattan
World leaders urge all to end conflicts with love and peace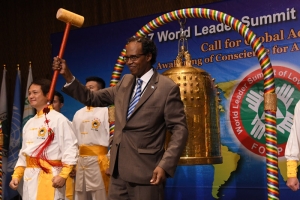 (Richard Tsai/New York)On September 20, the 2017 World Leader Summit of Love and Peace was hosted by the Federation of World Peace and Love (FOWPAL) in New York. Honored guests, including H.E. Taneti Maamau, President of the Republic of Kiribati; H.E. Abdirashid A. Sed, Ambassador-at-large of Somalia; Salim Uddin, Member of Parliament of Bangladesh; and NGO leaders, gathered at the Westin New York Grand Central Hotel to share their views on love, respect, and world peace. Additionally, Ambassador-at-large Sed of Somalia and Mr. Uddin, Member of Parliament of Bangladesh, rang  the Bell of World Peace and Love and wished peace to prevail in their countries and the whole world.
Dr. Hong, Tao-Tze, the President of FOWPAL, stated in his opening remarks, "We gather here tonight because we are connected by an invisible thread; we all share the common wish to practice love and peace."  "Let's open our hearts. Let the pure sound of the bell awaken the conscience at the depths of our souls. Let's make a kind wish for the Earth and all humanity. Let's take real actions to make peace and love prevail in the world, allowing people to have peace of mind and all living things to enjoy a sustainable future," added Dr. Hong.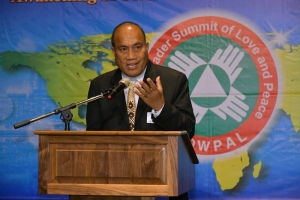 President Mamau of Kiribati, who rang the Bell in 2016, stated, "Ringing a bell is sending the message to the world about the importance and the fundamentality of the love and peace. We cannot do it alone; it's a shared responsibility. So, that is important. That is a milestone for me." "One day the world will be one if we truly believe in the value of love and peace," he added.
Mr. Salim Uddin, Member of Parliament of Bangladesh, rang the Bell of World Peace and Love, and he wished "peace for all of humanity and the whole world." "I want to see a peaceful world . . . the only way we can achieve peace in the world is with love and peace." He stressed that life is short, and we need to strive for a better world for our generation and future generations. He said, "That's why it's a very important message to the whole world and all world leaders." Love and peace are the most important and have to come from the bottom of our hearts, and if all human beings can respect one another, our world will become much better, added Mr. Uddin.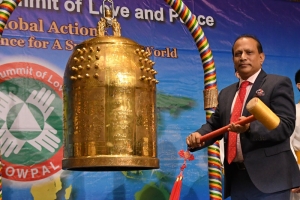 Ambassador-at-large of Somalia, H.E. Mr. Abdirashid A. Sed also rang the Bell. He delivered a passionate speech, wishing peace to the world. There are conflicts in his country and many parts of the world. He mentioned that the only way that conflicts can be replaced is to awaken all people to the importance of hope, peace, love, togetherness, understanding, and so forth. We are all human beings, and we have to live in this world in harmony despite our differences. "This is the principle of FOWPAL. . . . We share with you that kind of value," said Ambassador-at-large Sed.
Additionally, FOWPAL presented a rich cultural feast, including angelic singing, lantern dance, sword dance, violin and flute performances, martial arts performances, silk umbrella dance, and so forth. The spectacular performances full of the energy of love and peace awed the attendees and earned warm applause from them who were moved by the positive energy and message FOWPAL delivered.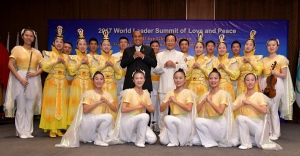 Ahmed Maharam, an Egyptian American and media worker, is one of them. He said that he was very pleased to learn about FOWPAL and that he will introduce it to the people of Egypt as well as to the Arabic community in New York to spread the idea how people can live together in peace.
FOWPAL is a California-based self-funded peace organization with members from 95 countries that has visited 71 nations, promoting love and peace through over 2,000 cultural performances. Since 2014, it has co-organized the movement of An Era of Conscience, currently with participation from 197 nations and over 3,100 organizations. For more information, please visit www.fowpal.org.