A Beautiful Interlude in the Night of Culture The Song of Love and Peace Touched Thousands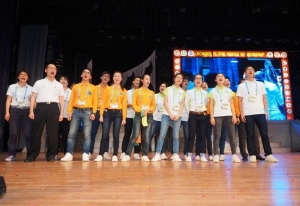 In early morning of October 9, 2015, more than 200 honored guests to attend the 16th International Conference of Chief Justices of the World left New Delhi for Lucknow. On 11 AM, they arrived one after another at the City Montessori School (CMS) which sponsored the conference. Welcome music played by students of the school's orchestra was heard from far away. Lovely elementary school students lined up along the road to receive the guests. The host presented a beautiful yellow floral loop to every guest to welcome his/her arrival. Before entering the conference hall, Dr. Jagdesh Gandhi, his wife, and his grandson, took a picture with all participants of the 16th International Conference of Chief Justices of the World. Volunteers of the Movement of An Era of Conscience also attended the conference and joined the emulated UN Assembly. 
In the emulated UN Assembly, CMS students reported current status and issues of many countries, and interacted with the chief justices. A consensus among the students was that there be a world court and a world congress to maintain world peace. GCMG of Tuvalu, H.E. Iakoba T. Italeli, former president of Sri Lanka, Chandrika Kumaratunga both highly applauded the students' performance. GCMG of Antigua and Barbuda, Rodney Errey Lawrence Williams said that the students will become very good diplomatists. 
Movement of An Era of Conscience has been expanding in the globe; the honored guests of the conference also pointed out the importance of the movement. GCMG of Tuvalu, H.E. Iakoba T. Italeli said that we should take control of our conscience and love is the greatest power we own. We should love and respect people and the environment. If we can tell bad things, we will not do such things to others. 
GCMG of Antigua and Barbuda, Rodney Errey Lawrence Williams thinks that conscience is very important to everyone. People need to understand what conscience is. Conscience can prevent people from treating others in inhumane ways. We should look at others and treat them like real people, without regards to religions or other aspects, and simply appreciate them. 
Supreme Court Justice of Cameroon, Mr. Luc Ndjodo pays special interests in education. He said: We must give our children a peaceful, fair, and happy world. Conscience is one of the important parts of education. In our country, and many other areas of Africa, there are many children who are too poor to go to school. They must know that their happiness and education are very important. Former Supreme Court Chief Justice and Judge of Uganda, Dr B. J. Odoki thinks that: Conscience is a cognition that is related to honesty. If we have conscience for human, what can we do for others? What makes us a united group of human beings? The answer is conscience and love. 
Deputy Supreme Constitutional Court Chief Justice of Egypt, Dr. Adel Omar Sherif said: this conference gets the justices to know the young people's thoughts. Conscience is the true behaviors basing on the cares about the environment. In Egypt, we can see conscience is making people to aware more of their freedom and human rights. The young generations realize more and more that their rights should be protected. Education is a continuing process to promote and to manifest these rights. I hope that we can have a more peaceful world for us to coexist. We are facing unsolved problems of decades old. So I hope to establish fairness and mutual friendship for world peace.