At Historic Moment World Leaders Gather at the UN
FOWPAL Consolidates the Positive Energy of NGOs to Promote Peace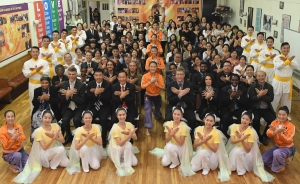 The General Debate of the 72nd UN General Assembly takes place on Sept. 19-21, where world leaders address the issues of the current nuclear crisis, racial conflicts, climate change, etc. At this historic moment when tensions are mounting between nations, the Federation of World Peace and Love (FOWPAL) gathered like-minded NGO leaders to work together to help the world overcome the current crisis. During the General Assembly, it held a meeting titled "2017 International Forum of Love and Peace, Call for Global Action: Awakening of Conscience for a Sustainable World" at the over 150-year-old Church of the Covenant on Sept. 18, 2017, at 3:00-5:00 p.m., with nearly 200 people attending. The key to solving the world's problems lies in people's hearts. Children and youth are essential to the world's future. We should plant the seeds of conscience in everyone's heart and practice love and peace on a daily basis.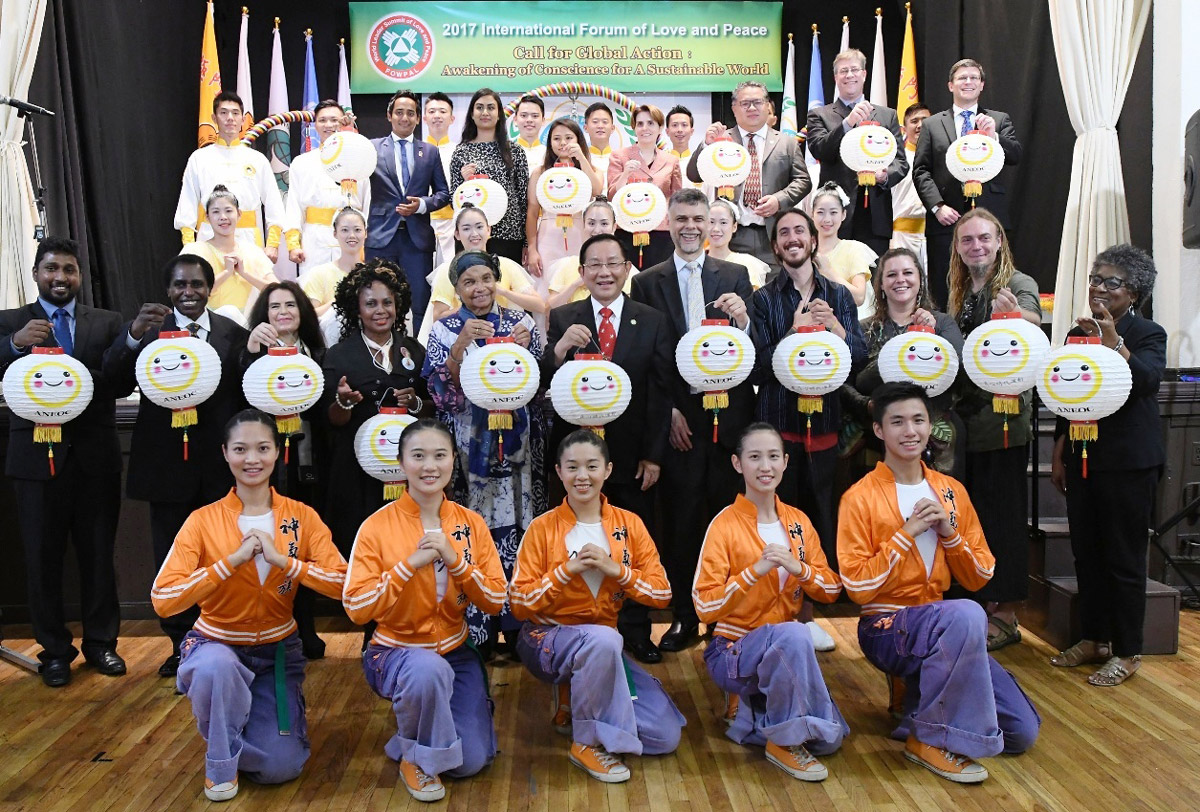 Dr. Hong, Tao-Tze, president of FOWPAL, pointed out, "Everything adheres to the philosophy of Yin and Yang characterized by having both reconcilable and irreconcilable aspects; thus, people's thoughts can be kind at one time and evil at another time. Only by awakening the conscience deep within can people resolve conflicts using the wisdom of love and peace to consider the common interests of all humanity, cooperate with one another without prejudice, restrain people from fighting wars, and consolidate people's efforts to strive for the development and sustainability of the world as a whole. I believe that only by peace can there be development, and only by development can there be peace."
He also stressed, "Children and youth are the masters of the future. The world will eventually be handed over to them. However, the environment our future generations will inherit is getting harsher. We have the responsibility to give them the foundation upon which they can live and flourish, and more importantly, an environment deeply rooted in cultures where they can be educated. Only culture can nourish the quality of education. Through education we can advance to a better economy. Through mutual caring and influence of excellent cultures, world citizen education enriches spirits; through education can we plant the seeds of conscience deep inside everyone's heart and let love and peace be practiced in everyday lives."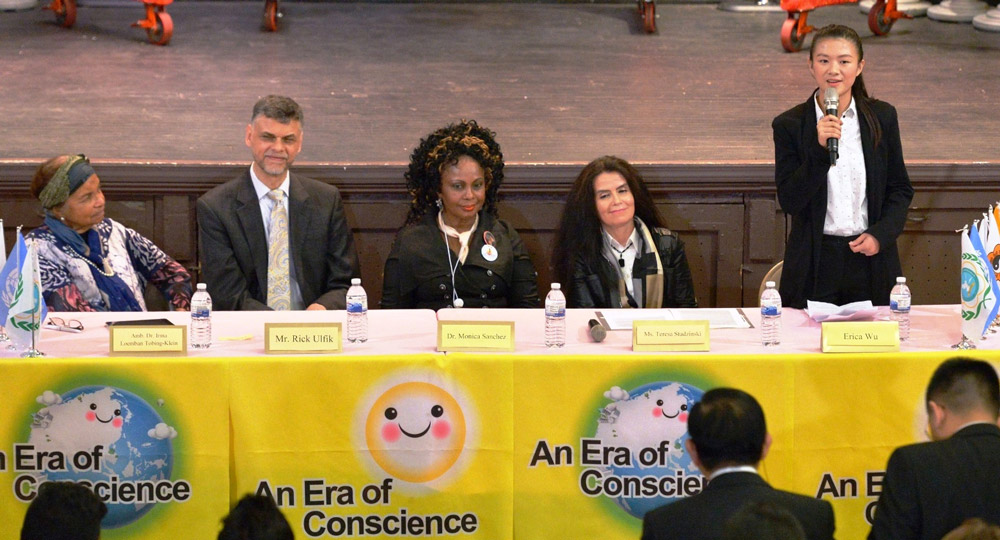 Young FOWPAL members conveyed the message of love and peace through their cultural performances, encouraging attendees to continue to practice peace. Their modern dances and songs brought warm and hopeful energy while their martial arts presentations encouraged people to bravely safeguard human rights. The pure energy of love and peace touched the attendees' hearts and made them feel that the future is hopeful. Erica Wu, 16, a FOWPAL volunteer, shared her story of following her conscience when making a choice at school. She said that as a student she once was thinking whether to cheat on a test or not.   Because of Dr. Hong's teaching, she realized that the test at school was a "fake test," the real test is the "test of conscience.""Even if I fail the chemistry test, I will still be proud of myself because I know I'm following my conscience. I always ask myself, 'Will the future me be proud of my current action?' If the answer is yes, then I am following my conscience, and the benefit of an act of conscience is long-term while the benefit of an act of dishonesty is short-term."
Mr. Isaiah Z. Chabala, former UN Ambassador of Zambia and member of the Board of Directors of the Global Alliance for Preventive Wings in the Military, said that the event is very inspiring and that is a very effective way of communicating the most important values of humanity, notably love and peace. He felt especially impressed to see young volunteers of FOWPAL, from whom he sees the seeds of hope for a world of love and peace. He further said that many terrorists are young people, so we must understand what young people want. Those in power need to listen to young people and empower them. We need to make them leaders. When we share love, kindness, and peace and when we reach out to people's hearts, we can impact them. We need to invest more on the causes of terrorism rather than simply react to it, added Ambassador Chabala.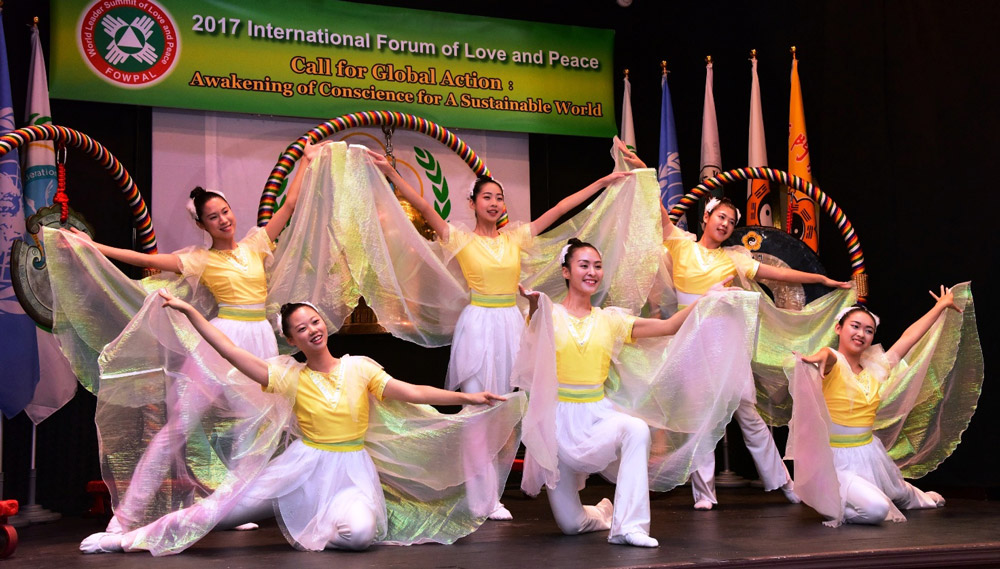 Ashan Perera, founder of the Road to Rights International Youth Led Organization, stated that the responsibility of educators and leaders is to inspire the desire and ability of young people and support them to be strong leaders so that they can make more contributions to society with their love and ability. Regardless of social status, people need to practice love and peace, added Perera.
Teresa Studzinski, president and co-founder of Global Alliance for Preventive Wings in the Military, pointed out that FOWPAL is an amazing organization. From today's event, she witnessed the spirit of teamwork and passing on a good tradition from generation to generation. She felt very honored to see such high-level cultural performances which help cleansed people's hearts.  
Dr. Hong encouraged NGO members by saying, "As NGO members, what we have control over is not power, but words and actions of wisdom originating from our conscience to make the Earth a more harmonious and safer place." At this critical moment, NGOs need to work with one another and use their powerful energy to help the United Nations to promote sustainability, improve the world's destiny, and create a brighter future for all.