Joyous Occasion at the 16th International Conference of Chief Justices of the World – People from 194 Countries Respond to An Era of Conscience Movement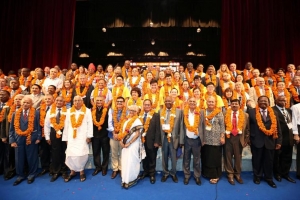 The 16th International Conference of Chief Justices of the World is one of the most significant international conferences of the world, and is scheduled to be held in Lucknow, India from 9th October to 12 October this year. This year's conference will see the participation of dignitaries from across the world, including 5previous and incumbent presidents, including Iakoba T. Italeli, incumbent GCMG of Tuvalu, Rodney Errey Lawrence Williams, incumbent GCMG of Antigua and Barbuda, Stjepan Mesic, former president of Mauritius, Kgalema Motlanthe, former president of South Africa, and Chandrika Kumaratunga, former president of Sri Lanka; more than 300 representatives will attend the conference, including 175 chief justices, judges, lawyers and legal representatives. It has been an auspicious beginning, for An Era of Conscience Movement has created an unprecedented historical record: people from 194 countries have responded to the movement, generating a positive butterfly effect to the world.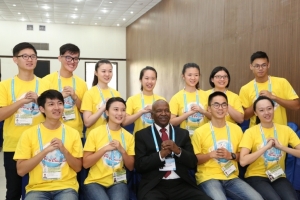 President of the Federation of World Peace and Love (FOWPAL), Dr. Hong Tao-Tze, was invited for the sixth time to the conference. Each time, Dr. Hong brings important message to the world, from the ringing of the Bell of World Love and Peace, encouraging the safeguard of taxpayers' human rights, as well as encouraging global solidarity through An Era of Conscience Movement. This year, 24 FOWPAL members, who are also international volunteers of An Era of Conscience Movement, will attend this significant conference. At this conference, the volunteers will share the accomplishments and experiences of promoting An Era of Conscience Movement to key leaders and chief justices of the world. At the opening ceremony, Dr. Hong will express his significant thesis and encourage participating dignitaries to opening share and encourage one another, with the hope that the ideals of love and peace and continue to spread to all countries of the world. 
Founder of the City Montessori School (CMS) of Lucknow, India – Dr. Jagdesh Gandhi, quoted from a Nobel Laureate of Economics, Jan Tinbergen said: Mankind's problems can no longer be solved by national governments. What is needed is a global government and this can best be achieved by strengthening the United Nation's system. Dr. Gandhi further expressed: This will be effective in solving mankind's existing problems, because there is an urgent need to change global governance. The theme of this year's conference is a united world, and key themes of the conference include: (1) Fostering a culture of solidarity and peace; (2) Building order based on law; (3) global governance structure; (4) solving global problems; (5) toward an enforceable international law; (6) sustainable development. The international volunteers of An Era of Conscience Movement will attend the entire conference, and throughout the sessions, usher in more support for the Declaration of An Era of Conscience Movement, uniting positive energy and creating a greater butterfly effect.