Promoting "An Era of Conscience" Movement in Russia
Angels of Love Touch People's Hearts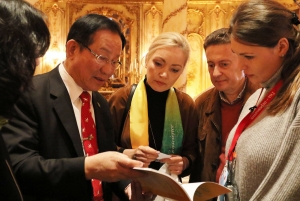 (Jason Cheng/Moscow, Russia) Autumn is a season of harvest and joy. The cultural goodwill delegation of the Federation of World Peace and Love (FOWPAL), led by its president Dr. Hong, Tao-Tze, was composed of 36 members. Despite the hardships of travel and cultural barriers, they have kept on promoting love, peace, and the movement of An Era of Conscience. They visited Moscow and Saint Petersburg, two well-known cities, on September 25, 2017.
Nina Goncharova, president of the Siberian Centre for Eurasian Projects, which is an international organization promoting lifelong education in Europe and Asia, especially traveled from Siberia to meet with Dr. Hong and his delegation in Moscow. Nina said that what the world needs the most is the energy of sincere love. Since years ago, she has realized that Dr. Hong is a wise leader who can assist world leaders to become more courageous and wiser to handle key issues at crucial moments. In 2008, she participated in the "Global Commitment to Safeguarding the Planet: the 2008 Concert of Thanksgiving and Gratitude," organized by Dr. Hong. With a pure voice, she sang a song called "Angels of Love" in Russian, conveying abundant energy of love at the concert, and she sincerely expressed that all the attendees met on that occasion because they were blessed. She also thought that the event served as a bridge, fostering heart-to-heart communication. She believes that as long as we unite the pure, kind energy of peace and love, the world will be better.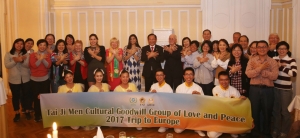 The delegation visiting Moscow has a very tight schedule. Mr. Oleg Bekker and his wife, on behalf of Mr. Alexey Chepa, a Moscow Congressman, especially visited Dr. Hong. They expressed their intention to facilitate the delegation's cultural exchanges of love and peace. Mr. Bekker also delivered the message from the mayor of Moscow City, saying that in the future when there is an opportunity, the mayor would like to make arrangements in advance to meet with Dr. Hong and his delegation.
Dr. Leo Semashko, founder and honorary president of the Global Harmony Association (GHA), is a state councilor of St. Petersburg and former professor of sociology at the University of St. Petersburg. Dr. Leo first met Dr. Hong over 10 years ago. He once invited Dr. Hong to write an article on "world citizen education," which was included in a book presented to the presidents of over 60 nations. Dr. Leo is a sociologist, philosopher, and peace campaigner. During the meeting, Dr. Leo once again invited Dr. Hong to contribute an article to Dr. Leo's next edition of the book because Dr. Leo wanted to inspire world leaders to make contributions to peace through Dr. Hong's articles.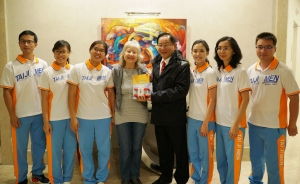 Sanjana Tewari, a classical dancer from India, was present at the meeting between Dr. Leo and the delegation, and she gave a short demonstration of a traditional Indian dance. Just arriving in Russia to study, she is currently Dr. Leo's student and plans to stay in Russia for two years. Her father led Indian athletes to participate in the 2017 Summer Universiade. Starting learning to dance at the age of 10, Tewari enjoyed the delegation's performance. She could feel what the performers intended to express from the looks in their eyes, expressions, and movements. She felt very touched and noticed that although her dance and their performance originating from different cultures, both conveyed the same message. She felt that people share a common origin.
Besides official visits and cultural exchanges, members of the delegation also spread love and peace through their pure singing voices and energetic dances at some famous tourist attractions in Russia. Allina, a Chinese-speaking tour guide born in Saint Petersburg, said that the delegation cordially interacted with tourists through flash mob performances of angelic singing and dancing. She was often moved to tears when seeing and listening to their performances. Even when she took pictures with them, her heart was pounding, and their kindness touched the depths of her heart. The world needs true love. She felt that they were like angels as they selflessly came from far away to conduct cultural exchanges and promote love and peace. At first Allina had no idea about what the delegation was doing. After listening to the "Love and Peace Song" sung by the delegation, she was very touched and gradually understood. She expressed her willingness to share love and peace with others in the future.