The Song of Love and Peace Touched Thousands in the 16th International Conference of Chief Justices of the World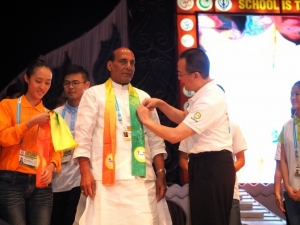 In the evening of October 9, the host held a Night of Culture to welcome the guests who arrived from far away. This year's conference, guests were from 60 different countries, including 5 incumbent or former heads of states, 175 chief justices, lawyers, and legal professions. The CMS of more than 50,000 students also planned exquisite programs performed by students of various ages. There were songs of the prayers, multi-culture dances, the event of lighting up the lights of learning, and the prayer for world unity. 
Climax after climax in the programs, when the Interior Minister of India, Shri Rajnath Singh lighted up the light of learning, the volunteers of the Movement of An Era of Conscience went on stage, and on behalf of the President of the Federation of World Peace and Love, Dr. Hong, Tao-Tze, the volunteers presented a scarf of conscience to the minister. And the volunteers sang the Song of Love and Peace. The song was full of peace and energy of the inner hearts touched all the honored guests, including the Interior Minister of India, Mr. Shri Rajnath Singh, the City Mayor of Lucknow, Dr. Dinesh Sharmr, the invited heads of states, the governors, the justices, and the CMS students and parents, who gave a great round of applauses. The warmth of people praising for love and peace became the most beautiful interlude of the Night of Culture. The Former Supreme Court Chief Justice of PANAMA, Ms. Graciela Dixon was very impressed by the volunteers of the Movement of An Era of Conscience. She was touched by the song; she not only respected the song but also decided to learn the song and teaches her daughter the song. Judge of the Family Court of Buenos Aires Province of Argentina, Ms. Gustavo Halbide said that a song from the heart can be received by heart.